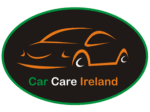 Express Detailer is the ultimate detailing spray. It's easy to apply and delivers a high gloss finish and a hydrophobic coating.
Apply Express Detailer as a fine mist using a trigger sprayer and buff off using a microfibre cloth for that just waxed finish.
Suitable for use on paint, glass, metal, rubber and plastic. Silicone free. Can also be used as a lubricant for clay bars.
Another quality product from Car Care Ireland. 
We wont be beating on price or quality.